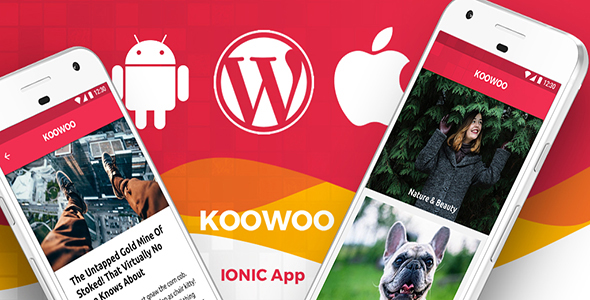 An IONIC App Perfect for Magazines and Personal Blogs. The App is designed in such a way that it can be used on both Android and iOS platforms.
Demo App Credentials
Username: test user
Password: 123456


Changelog & Update History
version 3.1
23 December 2020
Update: Documentation Updated
Update: UI Improvements
Update: Minor Bug Fixes
New: New Screens Added

Version 3.0
24 June 2020
Update: Android-minSdkVersion 19
Update: android-targetSdkVersion 28
Update: android:usesCleartextTraffic fix
Update: Cordova-android 7.1.4
Update: ionic_enable_lint: false, clean terminal
Update: Admin auth setup
Update: events update
Update: admin auth setup: cs_ ck_ removed
Update: FadeSplashScreen and AutoHideSplashScreen false
Update: Better splash control
Update: Unused imports cleanup
Update: Singleton network service
Update: Major refraction
Update: Sign-in and sign-up flow improvements
Update: Post comments: username, useremail fix
Update: Moment adaptation, date format improve
Update: Configurable social links in Navigation
Update: Clean and easy config.
Update: Support iOS 14 and Android 11 

Version 2.4
4 October 2018
Fix: WordPress plugin updated

Version 2.3
19 September 2018
Fix: Bug Fixes
Fix: Easy to Setup

Version 2.2
30 August 2018
New: Login Skip
New: Promt when Add Reaction
Fix: Bug Fixes
Fix: Performance Improvements 

Version 2.1
19 April 2018
New: Reaction added in Post Detail page.

Version 2.0
15 March 2018
New: About page added.
New: Contact page added.
New: Comments support added.
Fix: Reaction bug fixes.
Fix: Home slider style improvements
New: OneSignal integration for push notifications.

Version 1.2
20 Febuary 2018
New: Added User authentication
New: Post Reactions feature added.

Version 1.1
30 January 2018
Fix: Library Versions fixed
Fix: Image Path fixed

KooWoo can be used as blog android app, blog app template, blog ionic app, blog ios app, blogging app template, News Android App, news app template, news ionic app template, news ios app, WordPress Blog Android App, WordPress Blog ios App, WordPress Ionic APP, WordPress news android app, WordPress news ionic app, WordPress news ios app, etc.