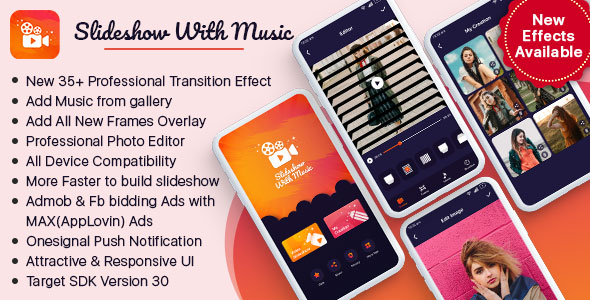 Photo Slideshow With Music is for Create marvelous slideshow with video using photos. Here in this app, you can Select photos and add music as per your choice. This app helps you to create fast and awesome slideshow with selected photos and music. For creating videos or slideshow from this application you can just select photos from gallery, add music and select all new animations and make an awesome video.
☞For inquiry, app support or app customization contact us at – [email protected]
Download Demo .apk from here
https://play.google.com/store/apps/details?id=com.slide.photo
FEATURES
✔️ ️Android 11 & 12 supported

✔️Target sdk 30

✔️Light weight app size

✔️ ️64 bit supported

✔️ ️Attractive & Responsive UI

✔️ ️Support in all devices.

✔️ Android Studio Pure Java Code (Recommended Version – 4.1.1)

✔️ Custom gallery to pick images form storage

✔️ Slideshow with all new 35+ transition effects

✔️ Photo Editor with all new photo filter with beauty filter, stickers, add text , Image Cropper & rotate image and more

✔️ Share, delete & repost your saved Slideshow Videos

✔️ ️My Creation for view, delete, share & repost all saved Slideshow Videos

✔️ ️Onesignal Push Notification for all users

✔️ ️Admob Ads with Full width Banner, Rectangle Banner and Interstitial

✔️ ️Applovin(MAX) ads with Facebook bidding ads with Banner, Rectangle Banner and Interstitial

✔️ Rate App, Share App, More App & Privacy Policy included
What You Get With Project?
✔️Full Android App Source Code with Admob Ads & Facebook Ads

✔️Full Setup Document (included app & Onesignal setup)
Update History
☞06 October 21

Bug fixed for making video
☞03 October 21

Target sdk 30

Compress app size

Applovin(MAX) ads with fb bidding ads

Android 11 supported

64 bit supported
☞06 April 21

Improve Ad Performance
☞02 March 21

Add new Slideshow Effects
☞30 Jan 21

Initial Release