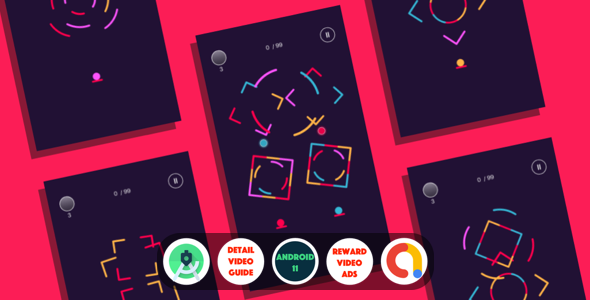 Color Jump Challenges – is a simple TAP gameplay. Your task is bouncing the colored circle, jump through cleft of rotation sharps from bottom platform to top. Rotation sharps may be circles, squares within narrow cleft. Sharps always rotate around their axis with different speed, you have to bounce the colored circlea at the right time when clefts lying on a line from bottom to top platform.
Game template features:
Android 11 supported
Simple Tap gameplay with HD graphics and Beautiful UI
Soothing music added which blends with gameplay
Admob ads Implemented (banner, Interstitial and Reward Videos)
Very Easy to reskin, simple object and shapes are are used to build the game
When a player dies, he can continue game by watching a reward video ad (more revenue)
Users can unlock characters by watching reward video ads (more revenue)
Game rating on play store screen
Share game screen
More games screen
Step-by-Step video guide is included, even a person without any programming knowledge can do the reskin
To get support OR our RESKIN pricing OR if you have any other queries, kindly contact us Via:

Email: [email protected]

Skype: live:.cid.e7c2f3e90e75ede8

Reach top charts with our Publisher ready, highly optimized UI and stunning grapics, which are designed meticulously. The game is developed using cocos2dx and is designed for high-performance, battery-efficient games, you dont need any complex game engines like Unity etc, Using just latest Android Stdudio, you can export the APK and upload to app stores.

Extended License features ( Very Important: Before purchasing contact me)
Remove Ads In-app Purchase
Orignal BB file
Google Leaderboards
Onesignal Push Notifications
other ad providers like mobpub, facebook, huawei
Change Log
19 Jul 21 – Version 2.0.0
- User gets 5 shields by watching Reward Video Ad

11 Jul 21 – Version 1.0.0
- Initial Release