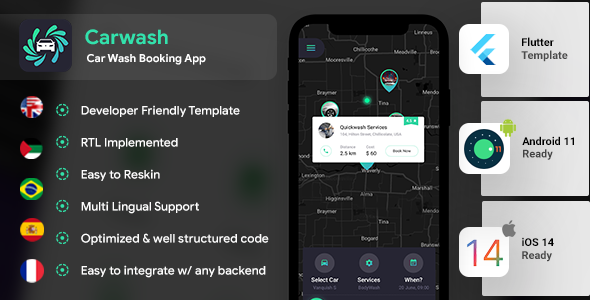 CarWash app is an on-demand Car Washing and other cleaning service app that user book an appointment for car washing, interior cleaning, engine detailing.
CarWash App can be a great choice App. It is a modern-based and easily customizable App template.
Changelog & Update History
Version 2.4
24th September 2021
Update: UI Improvement
Update: Fixed few crashes
Update: Minor bug fixes
Update: Performance Improvement

Version 2.3
25th July 2021
New: Google Admob Added
New: Google Map Added
Update: UI Improvement

Version 2.2
2nd July 2021
Update: Responsivness
Update: Minior Bug Fixes 
Update: UI Improvement

Version 2.1
23rd May 2021
New: Null safety
Update: Flutter updated to version 2

version 2.0
9 March 2021
New: PROVIDER APP
New: ANIMATION ON ALL SCREENS
Update: Documentation Updated
Update: UI Improvements
Update: Minor Bug Fixes
Update: Screen Linking Issue Fix

CarWash is also known as a car pick up app, car repair app, car service android app, car service app, car service ionic app, car service ios app, car wash app, carwash android app template, carwash ios app template, wash app, washing app, auto mechanic, auto service, auto detailing service booking app, Car Grooming Solution, car wash app android, car wash app iPhone, Car Wash app template, car wash booking app, Car Wash Booking Engine, Car Wash Booking System template, Car wash delivery application, Car wash service app template, doorstep car wash app, mobile auto detailing app, Mobile car wash app, mobile car wash booking app, on-demand car wash app, etc.