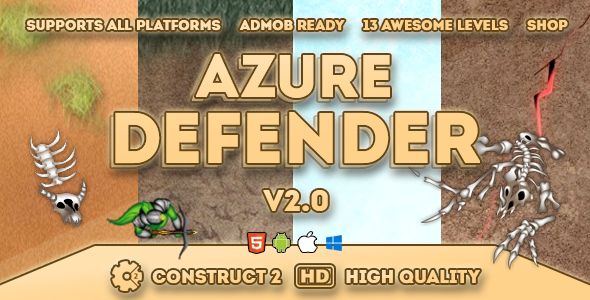 Your adventure begins here in the scorching desert sands. Will you be able to protect this world from the invasion of enemy creatures?
You play as the defender of the kingdom, who was instructed to stop the invasion of the enemy legion. Go through 13 awesome levels, ranging from hot deserts, cool forests and frost dunes, and ending with destroyed and dead volcanic land. More than 8 types of enemies and a detailed portrayal of the beautiful animation.
Fight for their land in the new game for mobile devices or desktop, Azure Defender!
Attention! This game was created in the program Construct 2
and contains more than 900+ events. You need to have a Personal or Business license the program to edit this game. Get it now on scirra.com.
How To Play
Features
What You Get
Construct 2 .capx file
Cordova exported files
NW.JS exported files (win32 win64, osx and linux)
All assets used in the game
PSD editable files
Lots of music and sounds
In-depth documentation
For any questions please contact me – [email protected]