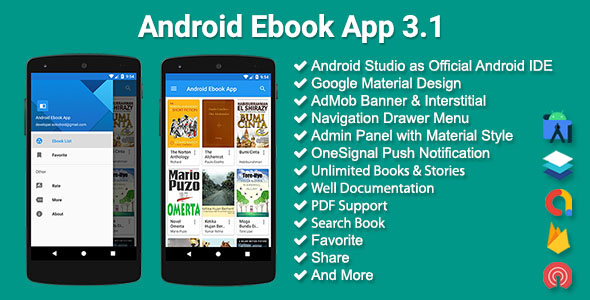 Android Ebook App is a mobile Ebook system which run under Android platform that used for your own ebook or story application. Using Admin Panel backend with powerful and responsive can manage unlimited books category and story, etc. This application created by Android for client side and then PHP MySQL for Admin side. Run under Android platform which is the most popular operating system in the world. Using this application you can save your money and time in creating application for your own Ebook application.
Features
Demo Admin Panel


Username : admin

Password : admin
Change Log :
Android EbookApp v3.1.0
- Build in latest Android Studio 4.1.0
- Update the dependencies library
- Update Gradle 6.5
- Build in PDF Reader (APK size become larger) - see FAQ
- Replace AdMob smart banner to adaptive banner
- Fix minor bugs

Android Ebook App v3.0.1
- Build in latest Android Studio 3.3.1
- Update to latest Gradle Tools and Library
- Fix description content that doesn't appear

Android Ebook App v3.0.0
Important Note : This version as new app and it's not compatible with previous or older version, so, using this latest project and admin panel is mandatory.
- Build in latest Android Studio 3.2.1
- Update to latest Gradle Tools and Library
- Update targetSdkVersion to 28
- Comply with GDPR Policy for EEA (European Economic Area) country
- Increase the appearance of Interstitial Ads
- PDF Support (Upload / Direct Link)
- OneSignal Push Notification
- Improvement Android UI Design
- Improvement Admin Panel UI Design
- Eclipse Project Removed (Deprecated)

Android Ebook App v2.1.2
- Build in latest version of Android Studio
- Update additional libraries to the latest version
- Firebase Push Notification
- Firebase Analytics
- Navigation Drawer with Header Image
- Swipe Down to Refresh Menu
- Material Design Improvement
- Redesign Admin Panel Dashboard with UI Material Design

Android Ebook App v1.0.0
- Initial Release

Rate it if you like it
when you are purchasing this app, don't forget to give a rate if you think this app is useful for you.